Shopping Cart
Your Cart is Empty
There was an error with PayPal
Click here to try again
Thank you for your business!
You should be receiving an order confirmation from Paypal shortly.
Exit Shopping Cart
Historic Hoosier Hills RC&D
Helping You To Help Your Hometown
Indian Creek Watershed Project
PROGRESS ON COST-SHARE PROGRAMS
The Indian Creek Watershed Project held a Public Meeting on August 17, 2009.
The Steering Committee reviewed and approved five (5) applications for the Cost-Share Program. This approval process provides funding for the application of Best Management Practices (BMPs) designed to help improve resource concerns within the Watershed.
This step in the evolution of the Indian Creek Watershed Project truly represents a "watershed" event in more than one way! It is an historic event in that for the very first time, funding is now being provided to physically put conservation on the land.
And, it all started many years ago with a group of Bonnie Fancher's Advanced Placement Environmental Science students at Switzerland County high School.
Cary Louderback, ICW Coordinator, would like to extend a sincere "Thank You" to Ms. Fancher, her students, Switzerland County High School, Historic Hoosier Hills RC&D (the project sponsor), Switzerland County SWCD, Indiana Dept. of Environmental Mgt., Natural Resources Conservation Service and all of the other partners for their work and assistance. The project would not be here without all of these contributions over the years.
Contact Cary, 812-427-3126 Ext 3 or email [email protected] if you are interested in learning more about available ICW Cost-share Programs.
------------------------------------------------------------------------------------------------------------------------------
Cost-Share is Now Available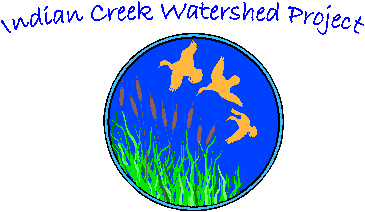 The Cost-Share Program for the Indian Creek Watershed Project has just recently been approved by the Indiana Department of Environmental Management (IDEM). This approval releases funding to improve and/or correct natural resource problems in the watershed. The Indian Creek Watershed contains over 44,000 acres in Switzerland County.
There are many conservation practices that may be utilized, most will be funded at 60% of the total cost (landowner pays 40%) with a contract limit of $10,000 for each producer. The primary goals of the Indian Creek watershed Project are:
Reduce the level of E.coli in the waterbodies to state standards.

Decrease the level of sedimentation loading in the waterbodies.

Decrease the level of nutrient and chemical runoff entering the waterbodies.
The Cost-Share program is being funded wholly or in part by the US Environmental Protection Agency (EPA) under an assistance agreement to the Indiana Department of Environmental Management (IDEM). The funds are available for the project from IDEM EPA 319 Grant sources.
If your property is located within the Indian Creek Watershed, please contact Cary Louderback, Indian Creek Watershed Coordinator at the Switzerland County Soil & Water Conservation District (SWCD) office in Vevay at 812-427-3126 ext. 3 or via email [email protected]
Not sure if you're in the watershed…….call Cary or anyone at the SWCD office.
------------------------------------------------------------------------------------------------------------------------------
News Articles
2009 Articles taken from the Switzerland County Newspaper
Presentation to Switzerland County High School AP Environmental Class. See message below that was received from the teacher, Mrs. Bonnie Fancher.
Click pictures to enlarge.
Cary,
Thank you so very much for speaking to the AP Environmental Science seniors at Switzerland County High School on May 20. The material that you presented on "Best Management Practices" for implementation in the Indian Creek Watershed was a perfect summary for their studies this year. Because they have been involved in water sampling and analysis, watershed litter cleanup, and recent studies learning to identify and survey macroinvertebrates, the students were very interested in learning what practices are available to improve water quality in "their watershed."
The level at which you presented the material was exactly right for these senior students.
I have attached three photos of your visit. I have 24 students in the AP class.
I hope that you plan a repeat visit with next year's seniors. I will have two AP Environmental Science classes next year with a total of 42 students planned at present. I have received supplies through the Dow Corning grant to train these students next fall in the classroom and to work with these students on the watershed chemical/physical/ and biological sampling. These students will also have the opportunity to train with ORSANCO next fall on the floating classroom. I hope that you can join us on our river trip. I will check with you as I plan a tentative date for the trip.
Thank you so very much for sharing an excellent presentation with us.
Bonnie Fancher
and AP Environmental Science Class
/